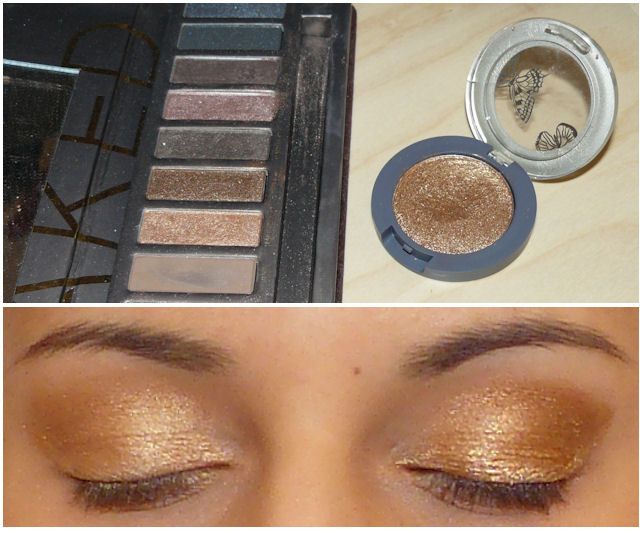 001.BEAUTY DUPES: URBAN DECAY HALF BAKED
THE
URBAN DECAY NAKED PALETTE
IS ONE OF THE MOST LUSTWORTHY PALETTES AROUND. IT SHOWCASES WHAT I THINK ARE THE MOST PERFECT NEUTRALS AND I REACH FOR MINE ON A REGULAR BASIS. SOME SHADES SUCH AS
HALF BAKED
ARE AVAILABLE IN SINGULAR FORM HOWEVER I STILL DREAD THE DAY MY FAVOURITE SHADES RUN OUT AND I HAVE TO REPLACE THEM (I'M TAKING ABOUT YOU SIDECAR - PLEASE LET ME KNOW ANY DUPES YOU HAVE FOUND). WELCOME ACCESORIZE'S GOLDEN HAZE WHICH I PURCHASED FROM MY LOCAL SUPERDRUG.
THE SHADE:
BOTH IN THE PAN AND ON THE LID HALF BAKED & GOLDEN HAZE SHOW AS PRETTY SIMILAR GOLD TONES. HALF BAKED IS EVER SO SLIGHTLY LIGHTER IN COLOUR BUT THIS IS HARDLY NOTICEABLE.
THE APPLICATION:
BOTH SHADOWS APPLY EXCELLENTLY HOWEVER GOLDEN HAZE IS SLIGHTLY SOFTER IN THE PAN. THIS CAN BE SEEN AS BOTH A POSITIVE OR A NEGATIVE DEPENDING ON YOUR PREFERENCE BUT PERSONALLY IT DOESN'T BOTHER ME EITHER WAY. GOLDEN HAZE DOES HOWEVER HAVE SLIGHTLY LARGER FLECKS OF GLITTER WHERE AS HALF BAKED IS VERY FINE. THIS MEANS IT DOES NEED A LITTLE MORE LOVE WHEN APPLIED TO MAKE SURE IT DOESN'T CREASE. I HAVE HAD NO PROBLEM WITH CREASING HAPPENING DURING WEAR FROM BOTH SHADOWS EVEN WITHOUT A PRIMER.
THE PRICE:
A SINGLE OF URBAN DECAYS HALF BAKED RETAILS AT £14 OR £36 FOR THE FULL NAKED PALETTE. IN COMPARISON ACCESSORIZE'S GOLDEN HAZE RETAILS AT AROUND £4 IF I REMEMBER RIGHTLY.
OVERALL:
ALTHOUGH I LOVE URBAN DECAYS HALF BAKED FOR SOME REASON I MORE OFTEN FIND MYSELF REACHING FOR GOLDEN HAZE MAINLY DUE TO THE SOFTNESS OF THE POWDER. IF YOUR LOOKING FOR A BARGAIN DUPE ITS DEFINITELY WORTH GIVING THIS A SWATCH NEXT TIME YOUR IN YOUR LOCAL SUPERDRUG OR ACCESSORIZE STORE.
---------------------------------------------------------------------------------------------------
RIA X