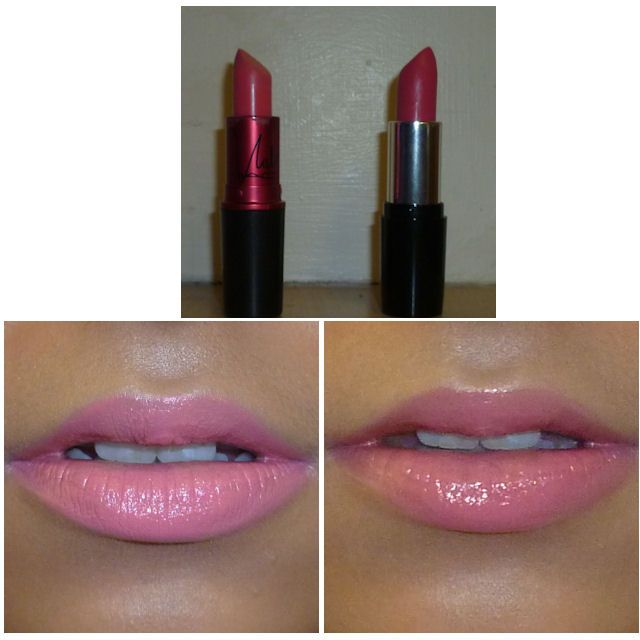 001.BEAUTY DUPES: MAC VIVA GLAM NICKI
WELCOME TO THE FIRST ON MY BEAUTY POSTS. EVERY WEDNESDAY I'M GOING TO TRY AND GET SOME FORM OF A BEAUTY POST UP TO ADD SOME VARIETY TO MY BLOG SO BOTH YOU AND I DON'T GET BORED. I LOVE HIGHSTREET PRODUCTS AND WHEN THEY'RE A DUPE FOR HIGH END BRANDS EVEN BETTER. I'VE BEEN MEANING TO COMPARE
MAC VIVA GLAM NICKI
AND
COLLECTION 2000 LASTING COLOUR IN SWEET TART
FOR A WHILE AS WHEN I WORE EACH ONE I WAS INSTANTLY REMINDED OF THE OTHER. I BLOCKED OUT MY LIPS WITH CONCEALER BEFORE TAKING EACH OF THE PICTURES ABOVE JUST TO GIVE YOU AN IDEA OF HOW EACH LOOKS (VIVA NICKI LEFT & SWEET TART RIGHT).
THE SHADE:
BOTH ARE A YELLOW-TONED PINK WHICH IN BULLET FORM APPEAR SLIGHTLY FLUORESCENT YET ON THE LIPS APPEAR SLIGHTLY MILKIER. VIVA NICKI DEFINITELY APPEARS MUCH MORE OPAQUE ON THE LIPS WHILST SWEET TART TAKES A FEW MORE APPLICATIONS TO GET A PIGMENTED FINISH WITH SLIGHTLY MORE SHEEN.
THE APPLICATION:
NEITHER LIPSTICK WAS HARD TO APPLY HOWEVER SWEET TART IS SLIGHTLY HARDER IN BULLET FORM. BOTH LIPSTICKS APPLY CREAMY AND NON-DRYING.
THE PRICE:
MAC VIVA GLAM NICKI RETAILS AT £13.50 HOWEVER REMEMBER THIS LIPSTICK IS FOR CHARITY AND THE FULL RETAIL PRICE (EXCLUDING VAT) HELPS PEOPLE AFFECTED BY HIV AND AIDS SO DEFINITELY WORTH THE EXTRA MONEY IF YOU CAN AFFORD TO. COLLECTION 2000 SWEET TART RETAILS AT £2.99 IN BOOTS.
OVERALL:
WHILST MY PARENTS WOULD ARGUE I DON'T NEED BOTH OF THESE LIPSTICKS I THINK THEY ARE DIFFERENT. SWEET TART IS A SHADE I FEEL MORE COMFORTABLE WEARING IN THE DAY WHILST VIVA NICKI IS MUCH MORE OPAQUE AND STRIKING. WHAT DO YOU THINK?
---------------------------------------------------------------------------------------------------
RIA X