MAY IS QUITE A HARD MONTH FOR ME FOR MANY REASONS AND I'M NOT SURE IF I'M HAPPY OR SAD TO SEE IT PASS BY ONCE AGAIN. A POSITIVE HOWEVER IS THAT I HAVE NOW COMPLETED MY FIRST YEAR AT UNIVERSITY. IT'S GONE BY SO FAST (I KNOW PEOPLE ALWAYS SAY THAT BUT IT REALLY HAS) AND I'M DEFINITELY COUNTING DOWN THE DAYS UNTIL I'M BACK AGAIN IN SEPTEMBER. I'VE GOT TO KNOW SO MANY PEOPLE, PUSHED MYSELF ACADEMICALLY AND ALSO SPENT AN INSANE AMOUNT OF DAYS PASSED OUT IN BED WITH A HANGOVER BUT IN ALL IT HAS BEEN SUCH AN AMAZING YEAR. I REALLY FEEL I'VE GROWN AS A PERSON AND MY ONLY WISH IS THAT I HAD MAYBE GONE FURTHER AWAY FROM HOME. I COULD GO ON ABOUT THIS FOREVER BUT IF YOU REALLY WANT TO ASK ANY QUESTIONS THEN FEEL FREE TO EMAIL ME AND I WILL BLABBER ON FOR DAYS.
---------------------------------------------------------------------------------------------------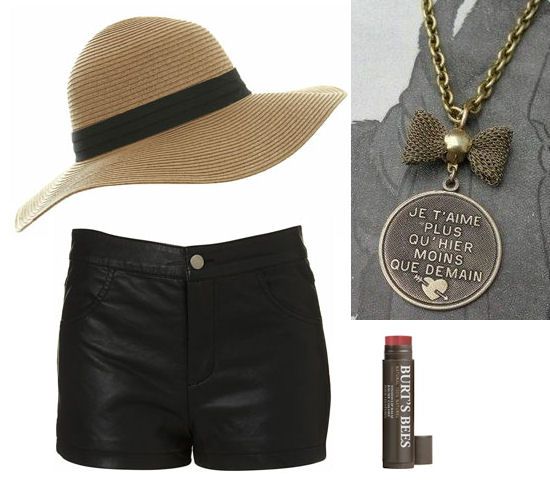 002. I WANT, I WANT
01.
MISS SELFRIDGE WOVEN FLOPPY HAT [£16]
NOT TO BOAST BUT I REALLY SUIT HATS AND FALL IN LOVE WITH THEM INSTANTLY. I THEN RECOIL AT THE THOUGHT OF ACTUALLY LEAVING A SHOP AND HAVING TO WEAR IT IN PUBLIC. I'M NOT SURE WHY BUT MY CONFIDENCE LEVELS DROP AT THE THOUGHT OF ACTUALLY PUTTING A HAT ON AND LEAVING THE HOUSE AND SO I ALWAYS WALK AWAY EMPTY HANDED BUT DREAMING OF THE DAY I WILL ACTUALLY MAN UP AND BUY ONE. I FEEL THIS DAY HAS COME AND THIS HAT IS PERFECT, STYLISH BUT NOT TOO FLASHY AND IT LOOKS EVEN BETTER IN PERSON. MAYBE ITS TIME TO TAKE THE PLUNGE!
02.
ZARA TAYLOR I LOVE YOU MORE THAN YESTERDAY NECKLACE [£16.99]
IF YOU HAVEN'T CHECKED OUT ZARA TAYLOR I DEFINITELY SUGGEST YOU DO. I FIRST HEARD OF THEM AFTER FALLING IN LOVE WITH MILLIE MACKINTOSH'S
EARRINGS
ON MADE IN CHELSEA WHICH I WEAR IN MOST OF MY BLOG POSTS. I WAS BROWSING THE SITE THE OTHER DAY AND THE WRITING ON THIS NECKLACE IS TOO CUTE TO PASS UP. IT SAYS 'I LOVE YOU MORE THAN YESTERDAY, LESS THAN TOMORROW' IN FRENCH.
03.
BURTS BEES TINTED LIP BALM IN HIBISCUS [£5.10]
THESE TINTED LIP BALMS FROM BURTS BEES DID THE BLOG ROUNDS QUITE A WHILE AGO BUT I'M JUST GETTING AROUND TO ACTUALLY BUYING THEM. I RARELY GO OUT WITHOUT A LIPSTICK ON AND SO THIS SHOULD BE PERFECT FOR JUST THROWING ON WITHOUT THINKING TOO MUCH.
04.
TOPSHOP PETITE PU SHORTS [£30]
I'VE BEEN LOOKING FOR THE PERFECT PAIR OF LEATHER LOOK SHORTS FOREVER AND I THINK THESE MAY BE THEM. NOT TO SHORT AND I THINK THEY WOULD LOOK PERFECT WITH SOME CUSTOMISED STUDS DOWN EACH SIDE.
---------------------------------------------------------------------------------------------------
RIA X