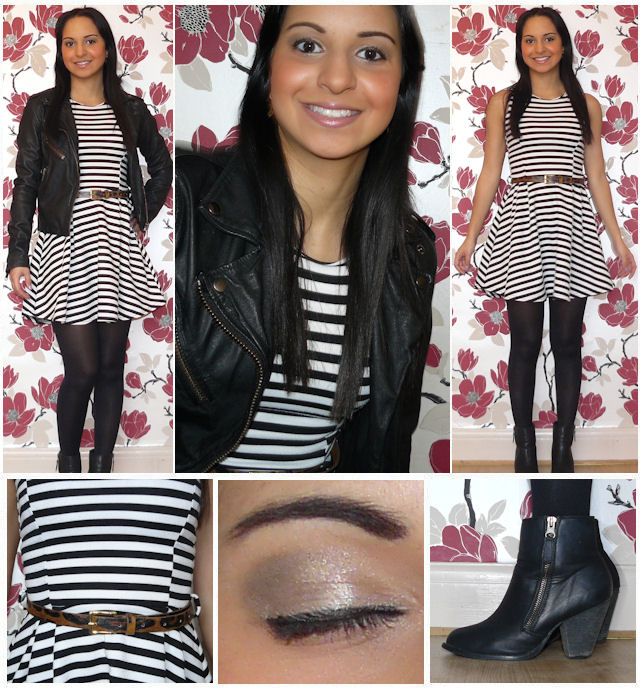 ---------------------------------------------------------------------------------------------------
001.OUTFIT
DRESS: MISO @ REPUBLIC [
SIMILAR
] / JACKET:
TOPSHOP
/ BOOTS: NEW LOOK
BELT:
DOROTHY PERKINS
I LOVE THE MIX OF GIRLY AND MASCULINE IN THIS OUTFIT. THE SHAPE OF THIS DRESS SEEMS TO REALLY WORK WELL WHEN MIXED WITH TOUGH DETAILS HOWEVER I WOULDN'T RECOMMEND THIS EXACT ONE TO ANYONE, ITS VERY TIGHT UNDER THE ARMS AND ALSO AFTER A COUPLE OF WASHES THE MATERIAL BECOMES UGLY AND BOBBLY. IF ANYONE CAN RECOMMEND A GOOD PLACE FOR SKATER DRESSES I WOULD BE SO GRATEFUL AS I'D LOVE A FEW MORE BUT AM JUST A BIT SCEPTICAL. ALSO MY NEW LOOK BOOTS, I THINK THIS IS THE FIRST TIME I'VE ACTUALLY SHOWN A PICTURE OF THEM. THESE ARE MY MOST WORN SHOES AND THEY ARE LOOKING A LITTLE BIT BROKEN DOWN NOW AS I'VE BEEN WEARING THEM NON-STOP SINCE WINTER. THEY WERE A BARGAIN AT £20 AND IF YOU SEE A PAIR HANGING AROUND IN THE SHOPS I'D DEFINITELY PICK THEM UP.
---------------------------------------------------------------------------------------------------
002. BEAUTY
EYES: ACCESSORIZE EYESHADOW IN MOONDUST
JUST A CLEARER PICTURE OF MY EVERYDAY EYESHADOW, ITS A BEAUTIFUL WHITE WITH GOLD AND BROWN VEINING WHICH TRANSLATES TO A SHIMMERY TAUPE ON THE SKIN. ITS SO EASY TO WEAR AND MAKES MY EYES JUST THAT LITTLE BIT BRIGHTER.
---------------------------------------------------------------------------------------------------
RIA X