THESE POSTS ARE DEFINITELY MAKING ME REALISE HOW FAST THIS YEAR IS GOING. I'M NOT GOING TO DO A MONTHLY LOVING ANYMORE AS I'VE FINALLY WORKED OUT A NEW TIMETABLE FOR MY BLOG. THIS MEANS THERE SHOULD BE AT LEAST ONE BEAUTY POST A WEEK AND 2 OUTFIT POSTS PLUS SOME FORM OF AN UPDATE EVERY OTHER WEEK. SORRY IF THAT SOUNDS A LITTLE CONFUSING BUT I'M HOPING IT WILL MAKE ME BLOGGING A LITTLE MORE FREQUENT.
---------------------------------------------------------------------------------------------------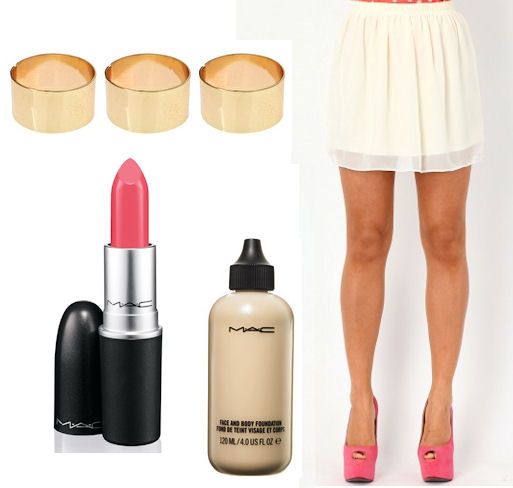 002. I WANT, I WANT
01.
ASOS MULTIPACK PLAIN BAND RINGS [£8]
I REALLY LOVE THESE RINGS WHEN I SEE THEM ON PEOPLE BUT I'M SLIGHTLY DUBIOUS ABOUT ORDERING THEM. I LOVE ASOS FOR CLOTHING BUT I FIND THERE JEWELLERY TENDS TO BRONZE REALLY QUICKLY AND I AM FOREVER CONTACTING THEM FOR FAULTY JEWELLERY. IS THIS JUST ME OR DOES ANYONE ELSE HAVE THIS PROBLEM?
02.
MISSGUIDED SHEER SKATER SKIRT [£14.99]
I REALLY LIKE THE LOOK OF THIS SKIRT FOR SUMMER ALTHOUGH I'M SLIGHTLY WORRIED ABOUT SIZING. AS I'M SO SMALL BROAD SIZES TEND TO SCARE ME AND SO I JUST AVOID THEM BUT THIS IS JUST TO PRETTY TO PASS UP. I WILL LET YOU KNOW HOW IT GOES AS I'M SURE I'M NOT THE ONLY ONE WITH THIS PROBLEM AS I'M REALLY EXCITED TO MAKE SOME OUTFITS WITH THIS SKIRT.
03.
MAC FACE AND BODY FOUNDATION[£25.50]
THIS IS A REPLACEMENT AS MY OLD BOTTLE OF FACE AND BODY HAS FINALLY RUN OUT. I REALLY LOVE THIS FOUNDATION FOR SUMMER AS ITS SO LIGHT AND EASY TO WEAR. I RECOMMEND IT FOR ANYONE LOOKING FOR A LIGHT BUT BUILDABLE FOUNDATION (OR ANYONE LIKE ME WHO WAS LOOKING TO CONVERT)
04.
MAC WATCH ME SIMMER LIPSTICK [£13.50]
THIS WAS PART OF THE SHOP MAC COLLECTION AND MANY OF YOU HAVE PROBABLY SEEN IT ALREADY, ITS A REALLY NICE PINKY-ORANGE WHICH WOULD BE PERFECT FOR SUMMER. HAVE YOU NOTICED A SUMMER THEME IN MY BUDGET LIST THIS MONTH, I JUST CAN'T WAIT.
---------------------------------------------------------------------------------------------------
RIA X