THIS MONTH HAS GONE INSANELY FAST, SORRY BLOG POSTS HAVE BEEN A LITTLE BIT LOW THIS MONTH. I'VE BEEN FEELING A LITTLE DOWN AND TOTALLY UNINSPIRED TO CHANGE OUT OF MY PYJAMAS MOST DAYS. THE POSITIVITY IS SLOWLY KICKING IN BUT THANK YOU FOR SUPPORTING ME AND MY BLOG THROUGH THIS TIME BOTH NEW AND OLD FOLLOWERS.
001. MONTHLY LOVING
ANOTHER MONTH, ANOTHER RIDICULOUSLY EXPENSIVE PURCHASE. I'VE BEEN LOVING THE SPIKED JEFFREY CAMPBELL LITA'S SINCE FALLING IN LOVE WITH THEM ON
LYDIA'S BLOG
. AFTER SCOURING THE INTERNET I COULDN'T FIND ANYWHERE THAT STILL HAD THEM IN STOCK THEN TO MY SURPRISE
OFFICE
CAME THROUGH. THEY STILL HAVE A FEW SIZES LEFT SO CHECK THEM OUT IF YOUR AFTER A PAIR.
ONTO THE BOOTS, WOW THEY ARE A LITTLE SCARY AND TAKE ME A LITTLE OUT MY COMFORT ZONE. I'M TRYING TO VIEW THIS AS A POSITIVE AS I'VE BEEN WANTING TO CHANGE MY STYLE FOR AGES NOW. I'M PLANNING TO GIVE THESE THERE FIRST OUTING ON EASTER SUNDAY ALTHOUGH I'M SCARED I'LL GET A LITTLE BIT TOO DRUNK AND TAKE SOMEONE'S EYE OUT AS I FALL OVER (I'VE ALREADY RIPPED MY LEATHER LOOK TROUSERS BY ACCIDENTALLY THROWING THEM ONTO THE SPIKES!). FINGERS CROSSED IT'LL ALL GO TO PLAN.
---------------------------------------------------------------------------------------------------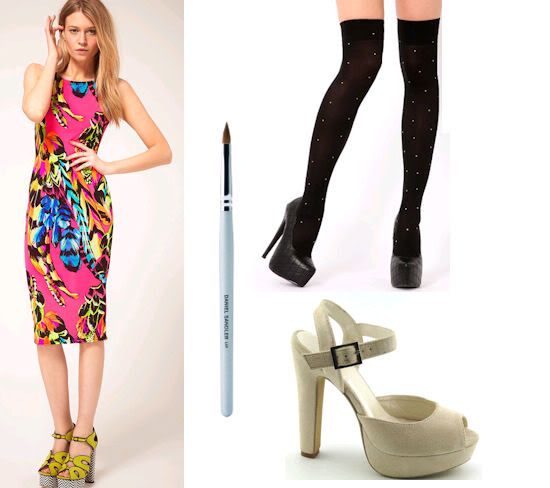 002. I WANT, I WANT
01.
ASOS MIDI DRESS IN TROPICAL PRINT [£30]
I'M UNSURE IF I CAN PULL OFF A MIDI DRESS BEING A PETITE 4FT11 BUT THIS PRINT IS SO LOVELY AND SUMMERY I CAN'T WAIT TO ORDER IT AND AT LEAST TRY IT OUT
02.
MISSGUIDED VELVET STOCKINGS IN BLACK & GOLD [£5.99]
THESE WILL BE PERFECT FOR SPRING WHEN ITS A LITTLE TO COLD TO GO BARE LEGGED. THE STUD DETAILING MAKES THEM THAT LITTLE BIT MORE EXCITING AS WELL
03.
BEIGE BLOCK HEEL SANDAL [£19.99]
I'VE BEEN LUSTING AFTER SOME
STEVE MADDEN DYNEMITE'S
FOR SUMMER BUT AM HAVING TROUBLE SOURCING THEM IN THE UK. THEREFORE THIS PAIR I'VE FOUND ON EBAY WILL HAVE TO DO, I MAY EVEN ORDER A FEW MORE COLOURS IF THESE TURN OUT WELL
04.
DANIEL SANDLER LIP BRUSH [£8.40]
MY LIP BRUSH HAS GONE FOR A WALK SOMEWHERE LEAVING ME A LITTLE BIT SAD. I REALLY LIKE THE LOOK OF THIS DANIEL SANDLER ONE, HAS ANYONE TRIED ANY OF HIS BRUSHES BEFORE?
---------------------------------------------------------------------------------------------------
RIA X