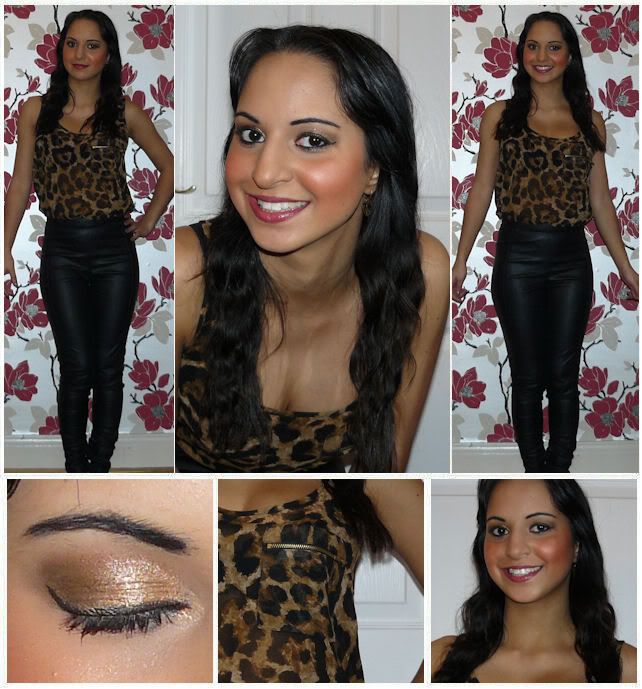 ---------------------------------------------------------------------------------------------------
001.OUTFIT
TOP: TOPSHOP [
SIMILAR
] / BOTTTOMS: TOPSHOP
I'VE COME TO REALISE I NEGLECT MY JEWELLERY. A DRAW FULL OF RINGS, NECKLACES, BRACELETS AND EARRINGS YET THEY VERY RARELY SEE THE LIGHT OF DAY. I'M NOT SURE WHY THIS IS. WHEN I BUY A NEW PIECE OF JEWELLERY IT LASTS FOR ABOUT A WEEK BEFORE BEING HIDDEN AWAY NEVER TO BE SEEN AGAIN. SO THIS IS GOING TO CHANGE, WITH EVERY OUTFIT FROM NOW ON I PLAN TO ADD AT LEAST ONE PIECE OF JEWELLERY AND HOPEFULLY THE REST WILL FOLLOW.
---------------------------------------------------------------------------------------------------
002. BEAUTY
EYES:
ACCESSORIZE GOLDEN HAZE
/ URBAN DECAY TOASTED / COLLECTION 2000 LASTING PERFECTION LINER
LIPS: SLEEK TRUE COLOUR LIPSTICK IN CRANBERRY
I HAVE A LOVE HATE RELATIONSHIP WITH THIS LIPSTICK. I LOVE THE DARK RED SHADE BUT FIND THE BULLET HARD TO USE WITHOUT GETTING A PATCHY APPLICATION. NOW AFTER PERSEVERANCE I THINK I HAVE FINALLY COME UP WITH A SOLUTION. RATHER THAN USING THE LIPSTICK STRAIGHT FROM THE BULLET USING A LIP BRUSH I MIX IT WITH A LITTLE VASELINE SO GIVE A WASH OF COLOUR. YES THIS REMOVES THE MATTE EFFECT BUT FOR ME ITS A NICE COMPROMISE TO GET THE COLOUR I WANT WITHOUT THE HASSLE.
---------------------------------------------------------------------------------------------------
RIA X