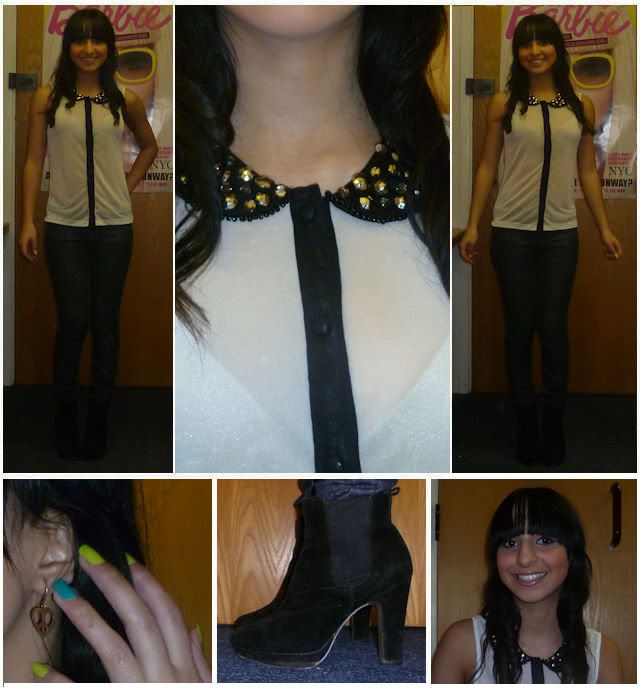 ---------------------------------------------------------------------------------------------------
001.OUTFIT
TOP: WAREHOUSE; BOTTTOMS: MANGO; SHOES: DOROTHY PERKINS;
THIS OUTFIT IS ABOUT AS UN-VALENTINES THEMED AS POSSIBLE. EVEN THOUGH I'M ONE OF THE MANY SINGLETONS WHO DREAD VALENTINES DAY COMING AROUND EACH YEAR I HAD A REALLY LOVELY DAY. I FINALLY SIGNED ON THE DOTTED LINE ON MY HOUSE FOR NEXT YEAR WHICH IS PRETTY EXCITING, FOLLOWED BY LUNCH WITH MY LOVELY FLAT MATE AND THEN FOR COCKTAILS AND CINEMA TO WATCH THE VOW WITH A FEW GIRLS. DAY ASIDE I REALLY LOVE THE COLLAR ON THIS BLOUSE, EVEN THOUGH MY HAIR COVERS IT MOST OF THE TIME IT MAKES ME FEEL A LITTLE BIT SPECIAL WHEN I PUT IT ON. ALSO PLEASE FORGIVE THE AWFUL FAKE SMILES IN MY PICTURES, I SEEM TO LOOK CRAZY-HAPPY OR TOTALLY INDIFFERENT IN PICTURES AND I CAN'T DECIDE WHICH IS WORSE.
---------------------------------------------------------------------------------------------------
002. BEAUTY;
NAILS: OPI DID IT ON EM & FLY;
EVEN THOUGH I HAVE A PHOBIA OF BRIGHT NAILS WHEN I SAW THE OPI NICKI MINAJ COLLECTION I JUST HAD TO HAVE IT, THEN WHEN IT CAME UP ON A CO-BUY A FEW DAYS AGO MY WAITING ENDED. SURPRISINGLY THESE WERE THE TWO COLOURS THAT ATTRACTED ME TO THE COLLECTION AND I LOVE THEM ON MY NAILS EVEN MORE. THEY'RE BRIGHT BUT STILL QUITE EASY TO WEAR WHICH SHOCKED ME. EVEN NOW I JUST CAN'T STOP LOOKING AT MY NAILS. WHAT DO YOU THINK OF THE NICKI MINAJ POLISHES? OR THESE TYPE OF COLOURS IN GENERAL?
---------------------------------------------------------------------------------------------------
RIA X