AS ITS THE END OF THE MONTH I THOUGHT IT ONLY RIGHT I DO A MONTHLY ROUND-UP TYPE POST. I'M HOPING THESE POSTS WILL PROGRESS TO INCLUDE LOTS MORE THINGS BUT FOR NOW I'VE JUST GOT A FEW THINGS I WANT TO SHOW YOU.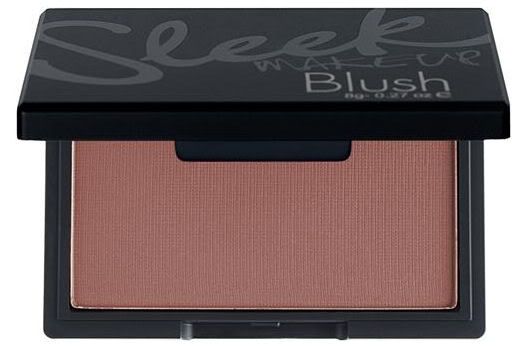 001. MONTHLY LOVING
THIS MONTH I'VE BEEN LOVING
SLEEK BLUSH IN SUEDE
. THIS IS A MATTE BLUSH IN A WARM BROWN COLOUR PERFECT FOR A SOFT, NATURAL GLOW. THE STOCK PICTURE IS SLIGHTLY MORE PLUM THAN IN REAL LIFE AND I WILL BE GETTING A PICTURE UP AS SOON AS MY CAMERA'S CHARGED TO SAVE THE CONFUSION.
AT FIRST I JUST COULDN'T GET ON WITH THIS BLUSH, I FOUND IT DIDN'T LOOK NATURAL (WHICH WAS ODD CONSIDERING ITS FROM THEIR NUDE COLLECTION) AND RATHER THAN A SUN-KISSED GLOW LEFT ME LOOKING SLIGHTLY DULL. NOT ONE TO GIVE UP ON A PRODUCT, ESPECIALLY ONE SO MANY PEOPLE SEEM TO LOVE, I SWITCHED MY APPLICATION STYLE. I SWAPPED MY
ANGLED BLUSH BRUSH
FOR THE
ELF COMPLEXION BRUSH
AND RATHER THAN USING IT AS A CONTOUR USED SLEEK SUEDE AS A WASH OF ALL OVER COLOUR. I'M NOW IN LOVE AND FIND MYSELF REACHING FOR THIS BLUSH EVERY MORNING TO MAKE MYSELF LOOK THAT LITTLE BIT MORE AWAKE ESPECIALLY WHEN ITS DULL AND RAINY OUTSIDE.
---------------------------------------------------------------------------------------------------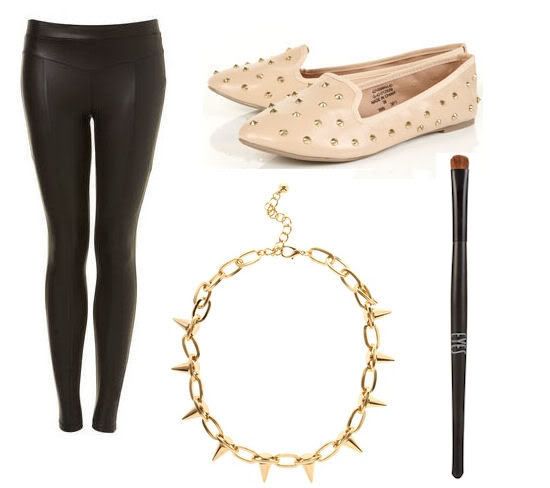 002. I WANT, I WANT
01.
TOPSHOP MATTE WETLOOK LEGGINGS [£22]
;
02.
TOPSHOP VECTRA STUDDED SLIPPERS [£28]
;
03.
TOPSHOP SMUDGER BRUSH [£5]
;
04.
ASOS SPIKE COLLAR NECKLACE [£15]
;
OKAY SO THAT TITLE SOUNDS A LITTLE BIT SPOILT, IN FACT THIS PART OF MY MONTHLY ROUND-UP IS TO KEEP MY SPENDING IN CHECK. AS ANYONE LIVING ON A STUDENT BUDGET (OR ANY BUDGET FOR THAT MATTER) KNOWS THE NEED TO BLOW YOUR MONEY ON PRETTY THINGS IS VERY ADDICTIVE BUT THEN LEAVES YOU FILLED WITH REGRET WHEN YOUR STUCK EATING PEANUT BUTTER SANDWICHES FOR WEEKS ON END. MAKING BUDGETS IS ONE THING I LOVE TO DO AND TO BE HONEST I'M PRETTY GOOD AT STICKING TO THEM, MAYBE BECAUSE I'VE NEVER MADE A CLOTHES/SHOPPING ONE BEFORE. THEREFORE I'VE SET MYSELF THE TASK OF STICKING TO A £70 (YES ITS AN ODD AMOUNT) SHOPPING BUDGET EACH MONTH WITH NO IMPULSE BUYS TO MAKE SURE I'M SPENDING MONEY ON THINGS I REALLY WANT. SO THIS IS MY FEBRUARY SHOPPING LIST AND I'M ACTUALLY QUITE EXCITED. I'VE WANTED EACH ITEM FOR QUITE A WHILE AND SO IF THIS IS THE ANSWER TO GUILT-FREE SHOPPING I CAN'T WAIT TO GIVE IT A GO.
---------------------------------------------------------------------------------------------------
RIA X