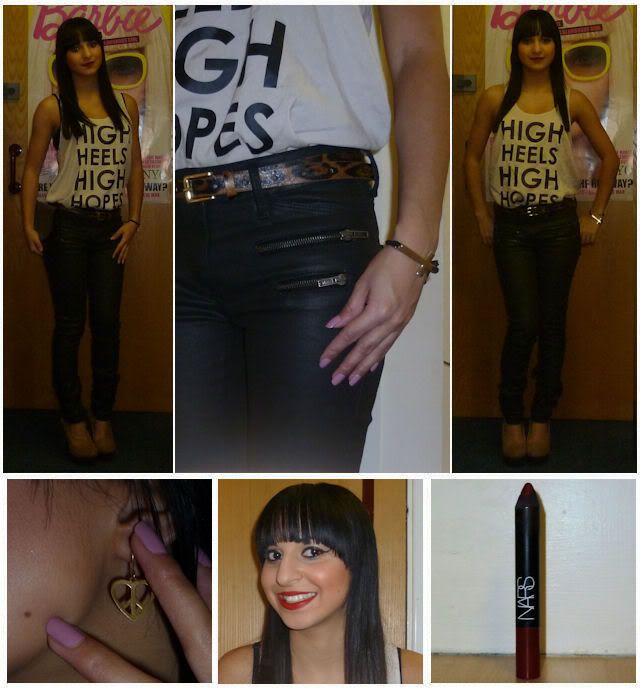 ---------------------------------------------------------------------------------------------------
001.OUTFIT
TOP: H&M; BOTTOM:
RIVER ISLAND
; SHOES: DOROTHY PERKINS;
BELT:
DOROTHY PERKINS
; EARRINGS:
ZARA TAYLOR
; BRACELET: TOPSHOP;
THIS OUTFIT WAS THROWN ON DUE TO A LAST MINUTE DECISION TO GO OUT AND SOMEHOW IT CONSISTED OF THINGS THAT HAVE BEEN SITTING IN MY WARDROBE FOR A LONG TIME. I'M IN LOVE WITH THESE JEANS, THE ZIP DETAILING THE BLACK LEATHER LOOK COATING, THEY SCREAMED AT ME TO BUY THEM BUT I NEVER SAW THEM IN THE STORE. THEN ON A TRIP TO THE POST-CHRISTMAS SALES THEY POPPED UP FOR £25. I COULDN'T CONTAIN MYSELF AND THEY REALLY ARE JUST AS BEAUTIFUL ON. THE BROWN SHOES BLACK JEANS COMBO WAS A LITTLE BIT IFFY (YES THE JEANS ARE BLACK MY CAMERA HAS GAVE THEM A GREEN TINT WHICH IS ANNOYING) BUT I LIKE HOW IT TURNED OUT ESPECIALLY WITH THE LEOPARD PRINT BELT FOR A MY ATTEMPT ON A ROCK LOOK.
---------------------------------------------------------------------------------------------------
002.BEAUTY
LIPS:
NARS VELVET MATTE PENCIL IN CRUELLA
; NAILS: H&M NAIL POLISH IN GET A ROSE FOR ME;
I STRUGGLED FOR A LONG TIME DECIDING WHAT COLOUR LIPSTICK THIS OUTFIT CALLED FOR. A GLOSS WAS TOO DULL, A PINK TOO GIRLY AND A RED WAS A LITTLE TO BRIGHT IN CONTRAST WITH THE LILAC/GREY TOP. NARS CRUELLA IS A DARK MATTE RED AND TO BE HONEST WAS MY ONLY OPTION. I MUST SAY I'M STILL NOT SURE ON IT SO I'D LOVE TO KNOW WHAT COLOUR LIPS YOU'D PAIR THIS OUTFIT WITH.
---------------------------------------------------------------------------------------------------
RIA X